GB Gold Medal winner visits the Bridge School!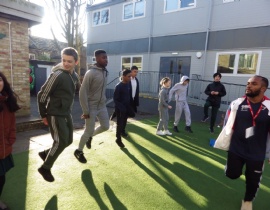 On Monday the 28th of January, the school was given a brilliant opportunity to host a team GB gold medallist, Courtney Tulloch.
The day was a success. With money raised for charity £365, students engaging in a fitness circuit training session run by Courtney and then an assembly. The assembly highlighted what it took to become a gold medallist but also the commitment needed to succeed and fulfil your dream/potential. The assembly ended with a Q&A which resulted in Courtney demonstrating a standing back flip in front of the students.