Keep your children safe online at Christmas - Parent Live Sessions on Facebook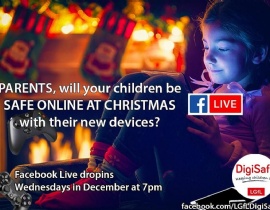 Keep your children safe online at Christmas - Parent Live Sessions on Facebook
Your children will have spent much more time on devices in 2020 – either for schoolwork or during leisure time. That is nothing to feel bad about, and we encourage the positive use of technology. However, as we prepare for online Christmas festivities, gifts of new devices or games, or perhaps online tutoring and catch up sessions, we wanted to let you know about an opportunity to help keep your children safe online.
There will be live drop in sessions for parents on Wednesday evenings at 7pm on the @LGfLDigiSafe Facebook page this December with tips for what to watch out for, how to stay safe, what to talk about and parental controls for new and existing devices, as well as the opportunity to ask any questions you may have.
Head to facebook.com/LGfLDigiSafe to sign up for a reminder on the day. The event will be run by experts in the DigiSafe team at LGfL.
Why not attend this event before you wrap new devices or let your children loose on their holiday games and apps.
Please also remember before buying Christmas presents that games have age ratings linked to their content, not their difficulty (games are rated 18 for the same reasons as films - inappropriate language, sex and violence). A good place to check the suitability of games and movies is https://www.commonsensemedia.org/.
There are plenty of great reasons to make technology part of your Christmas, so remember to talk about positives with your child – one great way to find out what they do online and also have fun together is to ask them to show you what they do and to teach you to play their games.
Finally, if you need general help and support over the holidays, you can call the NSPCC / O2 parent online-safety helpline on 0808 800 5002 for general advice or help with parental control settings for your home internet or devices.