Sports Day 2022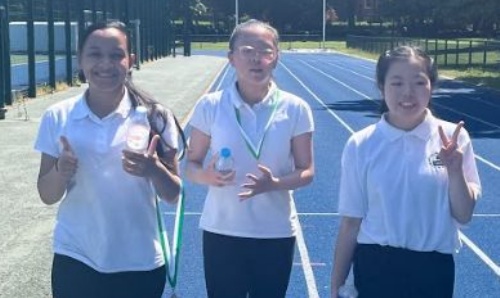 The whole school came together on Wednesday for The SMBS Sports Day at Paddington Recreation Ground.
Pupils and teachers throughout the school competed in a programme of track and field events on Wednesday at Paddington Recreation Ground. There were a great many highlights across the morning.
The day dawned bright and sunny and staff and pupils headed out for a morning of athletics. The programme included 400m and 100m events on the track followed by field events for pupils including high jump, long jump, javelin, shot put and discus.
Pupils have been preparing for Sports Day in their PE lessons over the past term by rotating around each of the events. Many pupils set out with a particular favourite event in mind; some had discovered a new favourite by the end of the morning.
Pupils and staff sat in the stands to watch the 100m and 400m races. There was a great atmosphere with pupils cheering each other on enthusiastically. A special mention to our Year 10 students who were the eldest students there on the day and did an incredible job supporting and cheering on all the younger students throughout the day.
Staff were incredibly impressed to see so many students competing in the 400m event with such commitment and enthusiasm. The greatest success of the day was undoubtedly the participation of every single student in the day's events.
Finally, we must also mention Mr Gyan taking first place in a very competitive staff race. He will be training hard to hold on to his title next year.