Midsummer Festival at Cecil Sharp House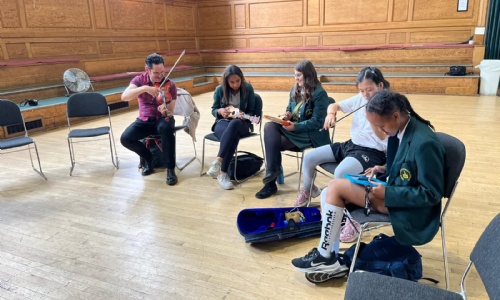 Last week Year 9 and 10 students participated in a folk festival at Cecil Sharp House, home of the English Folk Dance and Song Society.
Cecil Sharp House was transformed into a Midsummer Festival, decked with a vibrant maypole, the sweet sounds of sea shanties and the fresh smell of spring herbs!
The pupils were invited to be part of an Inclusive Folk project, a 3-year project which aims at improving access to folk music and dance education for people with Special Educational Needs and Disabilities. The pupils had previously worked with the adults at Cecil Sharpe House during their enrichment session on a Friday.
Students participated in a workshop where learning some different traditional folk dances and using different instruments to play some traditional folk songs.
Students pinpointed the May Pole as the highlight of their afternoon and have made a request for one for the new school site!