Bishop of London blesses new premises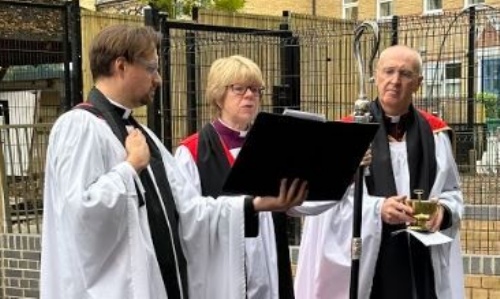 We were delighted to welcome the Bishop of London to our new premises on Wednesday.
The Rt Revd and Rt Hon Dame Sarah Mullally DBE, visited the school together with The Revd Stephen Evans - Rector of St Marylebone Church and Vice Chair of Governors and the new school chaplain - also Father Stephen!
Bishop Sarah blessed the new school premises at the main entrance;
"May the door of this school be wide enough to receive all who hunger for learning; May the doors to this school be narrow enough to shut out pettiness and pride, envy and enmity. May this school be a place of welcome and acceptance for all who would enter within its doors."
She then led pupils and staff in collective worship and afterwards toured the school, blessing all the learning spaces.
Bishop Sarah was delighted to see the new premises and interested to hear how pupils were settling in.
We look forward to welcoming the Bishop back to the school again in the future.